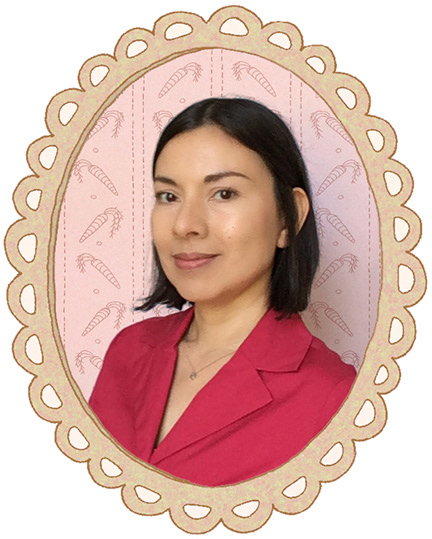 I'm Sheila Keegan, an illustrator and writer living in Cleveland, Ohio. It's nice to meet you!
I love creating illustrations with quirky characters that tell an entertaining story.  
As a Filipino American, cultural diversity is important to me. My work is inspired by culture, fantasy, nature, and travel.
Before joining the merry world of illustration, I worked as a designer and a painter. Before that, I studied and earned a BFA from the Columbus College of Art and Design.
I enjoy working with others to create interesting projects. My illustrations have appeared in magazines and my art in galleries in the U.S. and abroad. Past clients include: Uppercase Magazine, Stroly Inc., They Draw and Travel Book of Favorite Places, and 798 Art District Children's Art Gallery in Beijing, China.
My next goal? I'm always looking for exciting new opportunities. Children's content is my happy place! I'm hoping to live a long life so that I can make many books and illustrations.
I hope you enjoy my work. Feel free to get in touch and I invite you to sign up for my
newsletter
and follow along on social media.
Thanks for visiting!
Where do you live and work?
Cleveland, Ohio.
My studio is in the brightest room of our house. Sunshine makes me happy. Outside my windows I can see trees, birds, and deer families munching their way to the forest. Often my cats visit and walk across my keyboard when they want attention.
What inspires you? Where do you get your ideas?
I'm a curious person and am inspired by anything strange, mysterious, cute, or funny. I love to read, watch movies, go to museums, and be in nature. Meditation, observing daily life, memories from childhood and from travels... Life is sparkling with ideas for characters, settings, and stories.
What mediums do you work in?
I develop most of my artwork digitally in Procreate or Photoshop. I also enjoy painting in watercolor, gouache, and using pencils and ink. Carrying a sketchbook wherever I go allows me to scribble ideas and doodles of concepts. From time to time, I like to skim through and mine for ideas.
What is your art process like?
My art process is a balance between problem-solving and creativity. I consider the project as a whole, including the tone, age range, and timeline. Each project has different objectives, and I think about how to fulfill them before I begin.
I read the source material and jot down ideas, metaphors, symbols, verbs, colors, random thoughts, and word associations. This is one of my favorite parts of the process. I love pulling out threads of possibility that later become part of the illustration.
Gathering visual reference material comes next. After that, I do several character sketches, to get to know them better. Then I create many thumbnail drawings to figure out the composition. The best thumbnails become larger rough sketches. Next comes refining the drawing, and then making color studies. Last, on to final line work, textures, and color.
Who are your favorite authors and illustrators for children?
Gosh, so many! The list is long and ever-growing. 
Some childhood favorites are:  Tove Jansson, Richard Scarry, J.R.R. Tolkien, L.M. Montgomery,  Roger Duvoisin,  Beatrix Potter, Roald Dahl, Shel Silverstein, Roger Hargreaves, Lewis Carroll, Maurice Sendak, Gerald Durrell, Alice and Martin Provensen, Antoine de Saint-Exupery, C.S. Lewis, Rudyard Kipling...
And from the last 10 year or so:  Philip Pullman, J.K. Rowling, Suzanne Collins, Lemony Snicket, Ame Dyckman, Peter Brown, Renata Liwska, Beatrice Alemagna, Jon Agee, Simona Mulazzani, Zachariah O'Hora, Kitty Crowther, Mac Barnett, Delphine Durand, Benji Davies, Kelly DiPucchio, Benjamin Chaud, Kate Hindley, Christian Robinson, Jon Klassen, Marianne Dubuc, Emily Sutton, Marc Boutavant, Elise Gravel, Jory John, Amelie Flechaise, Matthew Forsythe,  Carson Ellis, Isabelle Arsenault, Chuck Groenink, and many, many more.
What were you like when you were a little girl?
I grew up in a mixed race family in Florida. I spent my childhood drawing and crafting. Our house was filled with books and cats, surrounded by an overgrown garden and a tangerine grove. My mom told me strange tales about growing up on an island in the Philippines, surviving in the jungle, and life by the sea.
I liked being outside, playing with my cats and siblings, observing tiny creatures, climbing trees, and building houses and forts for my dolls and action figures. I also loved reading, and made miniature books for my dolls to read, too.  Come to think of it, I'm not much different as a grown-up!
What are your favorite foods?
Coffee, chocolate, and fruit.
What are your favorite movies and t.v. series?
I'm particularly fond of fantasy and adventure stories. Here are a few:  The Moomin, all Miyazaki movies, all Wes Andersen movies, The Secret of Kells, Avatar the Last Airbender, Song of the Sea, Penelope, Charlie and the Chocolate Factory, Alice Through the Looking Glass, Guardians of the Galaxy, Mandalorian, Hunt for the Wilderpeople, Stranger Things, Stardust, The Secret of Roan Innish, What We Do In the Shadows, all Jean-Pierre Jeunet movies, Game of Thrones, Lord of the Rings, Star Wars, The Princess Bride, Legend, Blade Runner, The Dark Crystal…
How has travel influenced your work?
As a kid, I dreamed of traveling and living a life of adventure. My mom's stories about growing up in the Philippines ignited my curiosity in what life could be like for people around the globe. I poured over National Geographic maps and magazines, read the adventure tales of Jules Verne, and played at being Indiana Jones in the backyard.
After art school, I was fortunate to have the opportunity to travel before settling down into an art career. I roamed around Europe, N. Africa, the Levant, Asia, and Latin America. Later, my husband, two cats, and I lived in China for nearly 6 years. 
These experiences fueled an appreciation for the amazing variety of cultures and environments on our beautiful planet. This constantly inspires my work.
These days, I like nothing better than staying put, enjoying the simple pleasures of home. My main path now is from the coffee station to my studio. In my studio, I find all the adventure, excitement, and fulfillment I could dream.
What advice you would give to someone who wants to become an illustrator?
Draw as much as possible and draw your favorite things. Study the art you love, including art that has stood the test of time. Don't be afraid to make mistakes, because these mistakes teach you what to improve on your next drawing. Remember, talent = number of focused hours spent on your craft, so keep going!